Garmin Forerunner 245 Music Review
---
Smartwatches are getting better at packing a lot of equipment into a small waterproof case. If you're looking for a comfortable fitness watch that offers many features and lets you enjoy your favorite tracks while running – look no further.
The Garmin Forerunner 245 Music, Australia's favorite sports watch, is a mix of premium sports equipment and running features in one sleek and stylish-looking device. In this review, we'll take a look at the Garmin Forerunner 245 design as well as advanced features to show you why this watch is so popular.
Garmin Forerunner 245 Music Review
The Garmin Forerunner 245, Australia's premier running smartwatch, is one of the best running watches for professional and semi-professional runners.
Design
Appearance-wise, the Garmin Forerunner 245 Music resembles other Garmin watches with its round screen and rounded design. Its compact case weighs 38.5g, making it lighter and slightly smaller than any other smartwatch on the market.
It comes with a high-end color LCD screen that works well even on a sunny day but looks less colorful than flashy Apple Watch or Samsung watch screens. 
Note that the screen isn't touch-sensitive, and that's why the Forerunner 245 music has five buttons on the sides to help with the navigation. A great feature is that the screen is protected by gorilla glass that makes it scratch-resistant.
Like other Garmin watches, this model has two highly adjustable silicone straps to make sure the watch can sit tight on your wrist. These straps are available in three colors: blue, white, and black.
Battery Life
The Garmin Forerunner 245 Music Australia has a good battery life that lasts up to seven days in the smartwatch mode and six hours in a GPS mode with music.
While this is enough for any long run, you might have in mind, if you decide to have an all-day run or marathon, make sure your battery is full as it might not last the whole race if you want to use it with GPS. It takes two hours to charge fully and uses the same cable to charge and connect with your computer.
Free Adaptive Training
Using Garmin Connect, you can find the online community of runners, cyclists, and swimmers that can share their routines and upload them directly to your fitness watch.
For users with a new specific goal like cycling for 50 km or running their first half-marathon, the Garmin Coach feature will provide various routines. If you start following those recommended, every run will bring you one step closer to the final goal.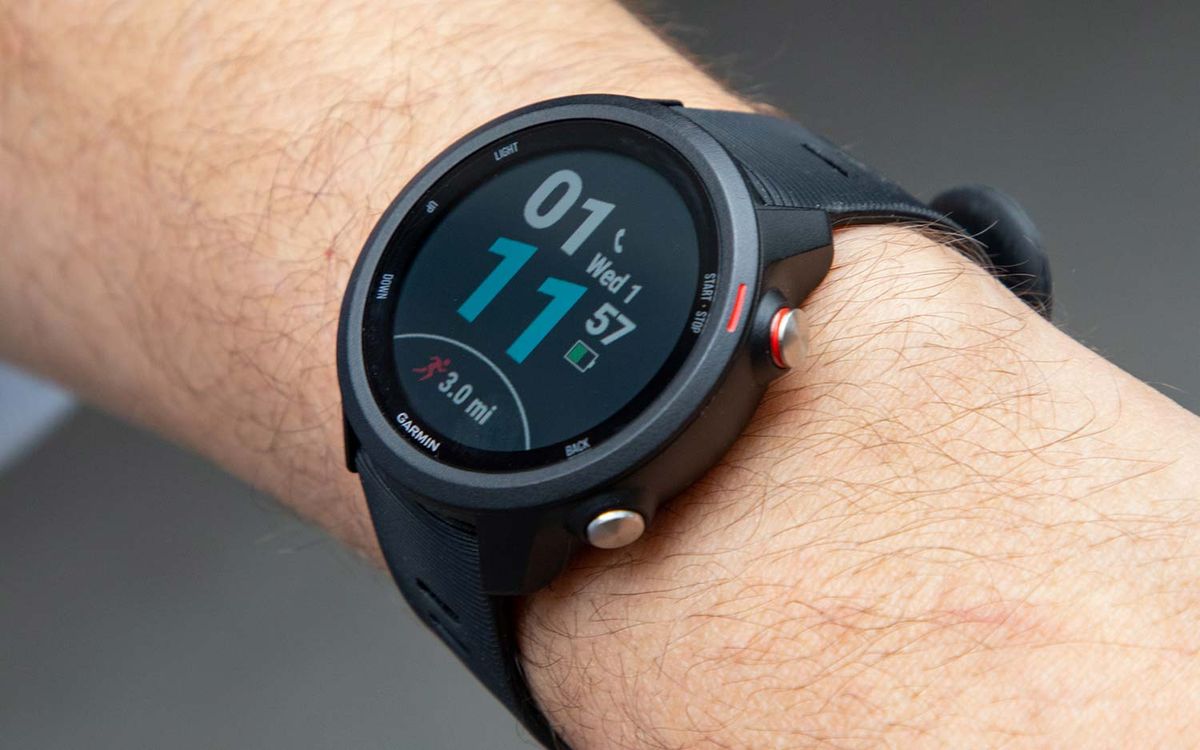 Music
Since Garmin made two Forerunner 245 watches, they both can control music apps, but only the Forerunner 245 Music supports music download. Connecting your fitness watch with Spotify is easier than ever since you can have favorite playlists saved with the Garmin Forerunner 245 music. 
With the ability to store more than 500 songs on your Garmin watch, you can run listening to the right tunes via Bluetooth headphones. If you want to run and listen to Spotify on your phone, you'll experience a significant change in your battery life. With playlists for swimming, running, rowing or dancing, you'll always have enough music to get you going.
Running
Smartwatches like the Forerunner 245 will track your running dynamics and performance features. With a personalized approach, all Forerunner 245 features will configure how long and fast you can run to give you the best recovery advice as per your heart rate.
With training status, you'll know more about the quality of your training and whether it should be intensified or not. Consequently, the watch will notify you whenever you break a personal record or improve your lap time or speed on a specific route.
With customizable screens, you'll be able to read your stats at a glance. Whether you like to have your average speed, length, heart rate, or location in two, three, or four different fields, the Garmin 245 screen will clearly show you all your stats.
There's even an option for your watch to beep or vibrate once you've achieved a set pace or finished a lap, or you can set it up to tell you your average speed every few minutes through the headphones. This can be useful for runners who rarely look at the watch as they'll hear all the information they need.
Indoor Exercise
Since other Forerunner models offer various exercise modes, the Garmin 245 Australia provides new ones like yoga, strength training, and cardio. Every runner needs to try some indoor training types like stretching or cardio to stay in good shape.
Activity Tracker
New digital watches are also focused on helping you feel better about yourself. That's why the Garmin Forerunner 245 Music can count all your steps, the calories you've burnt, and even has a stress tracker that follows your heart rate variability.
It provides you with a daily energy report based on all collected data and gives you a score between one and 100 to reflect daily energy levels.
Sleep Tracker
The Garmin 245 Australia offers a great sleeping tracker that analyses how much time you've spent asleep and the segments where you've reached REM. This tracker isn't one of the best available, but it can help people with sleeping conditions to follow their numbers.
Incident Detection
The Garmin Forerunner 245 Australia's safety features include an option that automatically detects any situation in which you might get hurt while running and shares your location with selected contacts. This is useful if you're hiking or cycling in the mountains alone, and you need to notify the emergency services. However, this will work only if you have your phone with you.
The Final Verdict
Every runner needs a reliable smartwatch, and the Garmin 245, Australia's favorite, is raising the bar high.
With its bright screen, precise GPS, and Spotify music, this watch can improve your running sessions as well as keep an eye on your overall energy levels, heart rate and health. Even if it doesn't have a flashy screen and a modern interface, the only real downside of this watch is its price.
For anyone who wants a high-performance fitness watch for less than $300, it doesn't get much better than the Garmin Forerunner 245 Music.
You can pick up your Garmin Forerunner 245 Music at Amazon.