Garmin Fenix 5S Plus Review: Fitness GPS Smart Watch
---
If you're looking for a smartwatch that's more than a simple accessory, the Garmin Fenix 5s Plus Australia is precisely what you need. Small and compact, this model is built for outdoor adventures and has many premium features that are not available on other models.
It not only has excellent navigation sensors, but it can also find the best routes for your running sessions. In this article, you'll get a full review so you can decide whether this watch is the best option for you.
Garmin Fenix 5s Plus Sports & Fitness GPS Smart Watch Review
Design
This model comes in 13 different colors, so there's something for everyone. The Fenix 5s Plus white is the most popular option because it looks different from any other model on the market. It's easy to pair with all types of clothes. If you think a white watch will quickly get dirty during outdoor adventures, don't worry.
As we said, this smartwatch is made for outdoors and extreme sports. Therefore, its band is made of dirt-resistant material, rendering maintenance effortless. However, you can choose another color from various gray, black, and silver combinations if you want another color. For those who want to stand out, there's a fantastic option with an orange band.
Moreover, additional bands for this model are sold separately at a reasonable price, so you can purchase multiple bands for every occasion. That way, you can customize your watch and even transform it from a sports watch into an elegant accessory.
It's worth mentioning that it has a large 1.2" sunlight-readable display that allows you to use it outdoors. It's scratch-resistant and practical for use in challenging conditions. What's more, the bezel, buttons, and rear case are made of stainless steel, making this watch more resistant and durable than classic Garmin models.
Navigation Sensors
Whether you're into running, hiking, climbing, or any other outdoor sports, this watch has all you need. It comes with exceptional built-in navigation sensors, including a three-axis compass, heart rate trackers, a gyroscope, and a barometric altimeter.
Plus, it has multiple satellite systems. Apart from GPS, there are also two other satellites – GLONASS and Galileo. This will be helpful for those who train in nature where the GPS signal isn't strong enough. Unlike regular smartwatches, the Garmin Fenix 5s Plus Australia can track your route in the most challenging environments.
There are also colored maps featuring Trendline popularity routing to help you find and follow the best paths. This feature is excellent both for running in nature and finding the best cycling routes in busy cities. All in all, the Garmin Fenix improves the quality of your outdoor training sessions in multiple ways.
Battery Life
Garmin is a champion when it comes to battery life – and this smartwatch is no exception. If you use it in smartwatch mode, it can last up to seven days. If you use it in music or GPS mode, the battery can last up to four hours.
This may seem slightly less than some other Garmin models, but the reason for that is the super-accurate tracking system that this model uses. However, it charges very quickly, and you can bring a USB charger with you wherever you go.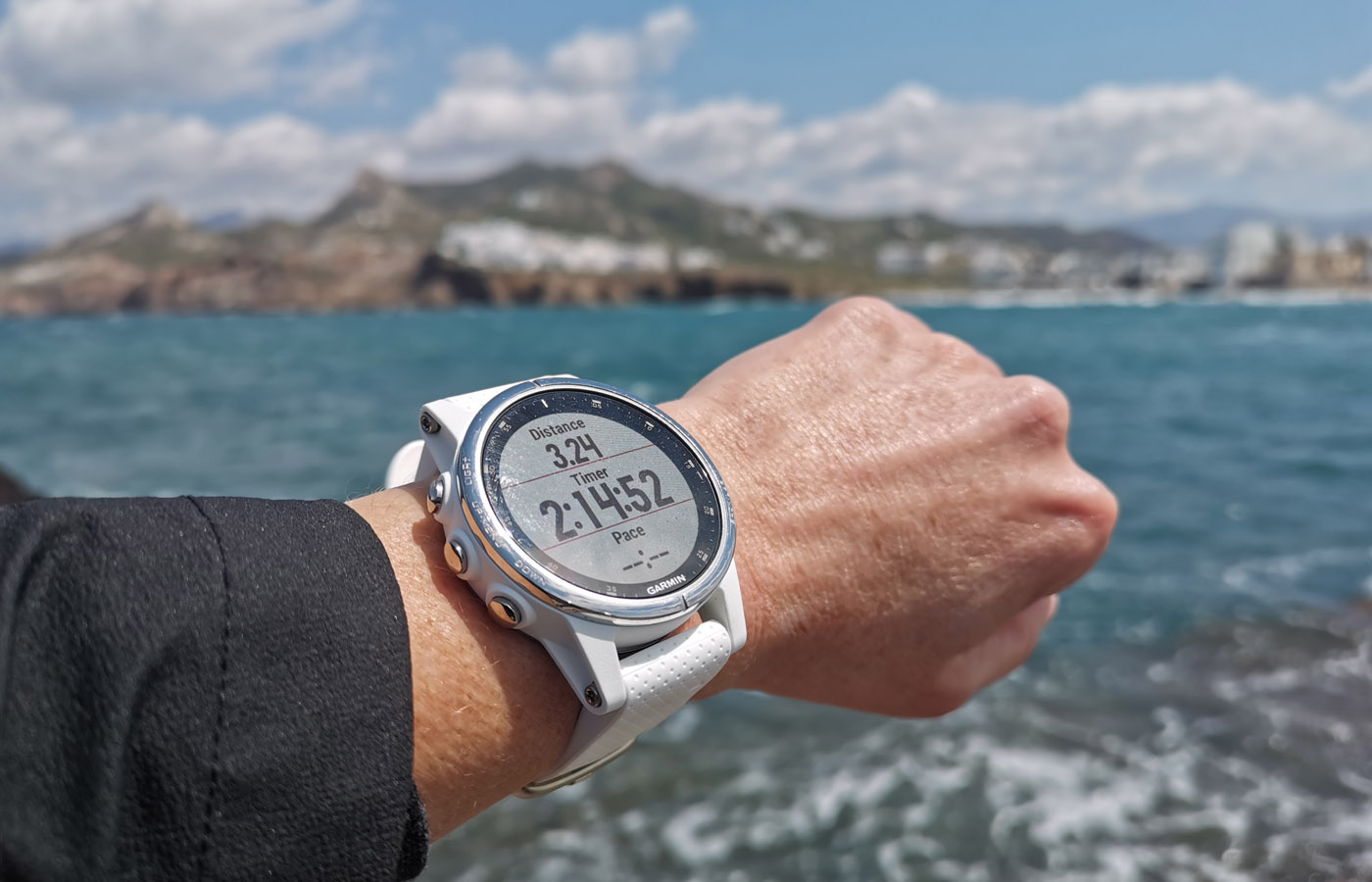 Running Power
Just like the Garmin Fenix 5 Plus Australia, the S version is also compatible with the most sophisticated running app developed by the manufacturer's labs. We're talking about the Running Power app that taps into different metrics such as pace, heart rate, vertical oscillation, and grade to determine the amount of power you're applying to the ground as you run.
The most significant benefit of this system is that it helps you to better pace yourself. If you're serious about your running goals, the Fenix 5s Plus white may be the device you need to help you achieve them. Overall, this could be the most important thing you'll read in this Garmin Fenix review.
Whether you're a professional runner or a beginner, this device will help you. It's never too late to achieve your running goals, whether you're 28, 36, or 65 years old. You just need to customize everything according to your parameters, and that's what this smartphone can do for you.
Music
You no longer need your phone or the internet to listen to music. You can now access your favorite songs wherever and whenever, whether it's during a challenging workout in the gym or during a road trip in the mountains where there's no network. This smartwatch has incredible storage capacity for one smartwatch, and you can download up to 500 songs.
To save some time, you can also sync your favorite playlist from any music streaming service. The only thing to have in mind is that you need Bluetooth headphones that are sold separately. They can be an excellent investment, especially if you work out a lot and don't want to bother with your phone.
Garmin Pay
The Fenix 5s white is ideal for women who don't want to carry their mobile phones or handbags wherever they go. 
Not only can you track your performance and listen to music with your smartwatch, but you can also use it for contactless Garmin payments. You can simply connect your credit card with the Garmin Fenix 5 Plus Australia. It supports all major credit cards and payment institutions.
Final Verdict
This is an excellent smartwatch for active women, especially those into outdoor activities. Whether it's running, climbing, hiking, or just wandering around in nature – the Garmin Fenix 5s Plus is the device you need.
If you could remember only one thing from this Garmin Fenix 5s Plus review, we'd like you to keep in mind that this model is resilient and uses multiple satellite systems. It's made for athletes who are serious about their goals and want something to help keep them accountable.
On the other hand, if you need just a simple smartwatch, you can read some of our other Garmin Fenix reviews to explore other available options.
Ready to have a Garmin Fenix 5S Plus be your ultimate workout buddy? You can pick one up on Amazon.