Garmin has been a leader in the smartwatch industry for years. Their models are all high-quality, accurate, and have excellent battery life, health and heart rate monitors and trackers. The only differences are the details; while some models are made for the outdoors, others are made to be stylish multi-purpose watches.
In this article, we've gathered the seven most popular models and created this Garmin smartwatch comparison. We'll focus mostly on features that set each model apart, so everyone can find the watch that suits their needs.
Garmin Fenix 5 Plus
In the category of outdoor women's watches, smartwatches from Garmin Fenix series are definite winners. This model is compact, durable, and much more resistant than the other models. It's ideal for outdoor adventures such as hiking and climbing, as it has excellent navigation sensors, battery life and multiple satellite systems (GPS, GLONASS, and Galileo).
This smartwatch comes with color TOPO maps that indicate the best routes and paths for your exercise – whether it's running in nature or cycling in a busy city.
Moreover, it has impressive storage space, which allows you to download up to 500 songs for offline listening. You can listen to music without your phone, which is ideal for long commutes or tough training sessions.
You can pick up the Garmin Fenix 5 Plus on Amazon.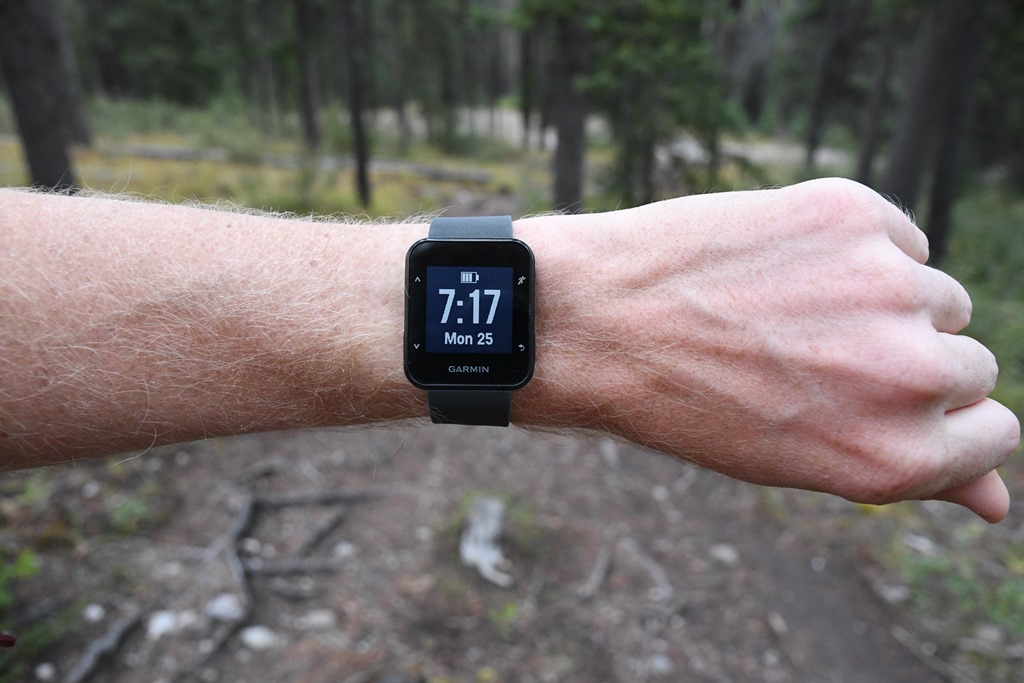 Garmin Forerunner 35
Unlike most smartwatches by Garmin that are rounded, this one has a square screen. It comes in four colors: black, white, frost blue, and lime. Teens and young people love this model because it looks more modern and it's also affordable. It's slim and lightweight, which makes it perfect for running and jogging.
Apart from an excellent fitness tracker tracking heart rate that works 24/7, it also has built-in GPS that tracks how far and how fast you run. You can also record your routes and paths.
This Forerunner smartwatch may not have all the fancy features some other Garmin models have. Still, it has everything you need to plan your training sessions and stay accountable.
The price is more than reasonable compared to other Garmin watches.
For more details, you can read the full review here.
Garmin Vivoactive 4s
This model may be small and compact, but it has all the features of regular size models. It's suitable for all types of indoor and outdoor workouts. It comes with more than 20 workout apps that cover all kinds of sports, from yoga and Pilates to strength and conditioning.
This smartwatch can replace your personal trainer and save you money. Even if you're a complete beginner, just enter your parameters, and the watch will suggest perfect workouts for you. Plus, you can watch animated workout sessions on your wrist, wherever you are.
Moreover, the Vivoactive 4s has excellent safety and tracking features. If you have teenagers and worry about their safety, this could be a perfect solution for you. You can pair their smartwatch with your phone, so you'll immediately be notified in case of an emergency.
For more details, you can read the full review here.
Garmin Vivoactive 3 Music
This is one of the most beautiful and best Garmin watches, and you'll get a lot of compliments every time you wear it.
But it's not just about looks. Garmin developed this model to create a user-friendly smartwatch, suitable even for people who aren't particularly tech-savvy. They did a great job, as this watch is easy-to-use, yet it has all the features you may need.
Apart from the health tracker, there are also some fitness apps suitable for all types of exercise. There's also a yoga tracker, which isn't available on other Garmin outdoor watches. Also, the Vivoactive has a lot of storage space for your favorite songs and an easy-to-use contactless payment service. These features make it one of the best smartwatches around.
Want to find out more? Check out our full review here.
Garmin Forerunner 245 Music
The Forerunner 245 is ideal for professional athletes and those who are serious about their goals, especially when it comes to running. It has advanced performance analytics, helping you analyze your data and prepare for your next race. It provides advance running dynamics such as ground contact time, balance, stride length, and vertical ratio.
Of course, you can use it for other sports as well. The Forerunner features the Garmin Coach, which gives you free adaptive training plans. You can also create your own custom workouts and connect with other fitness enthusiasts in the Garmin Connect online fitness community.
Check out our full review here for more details.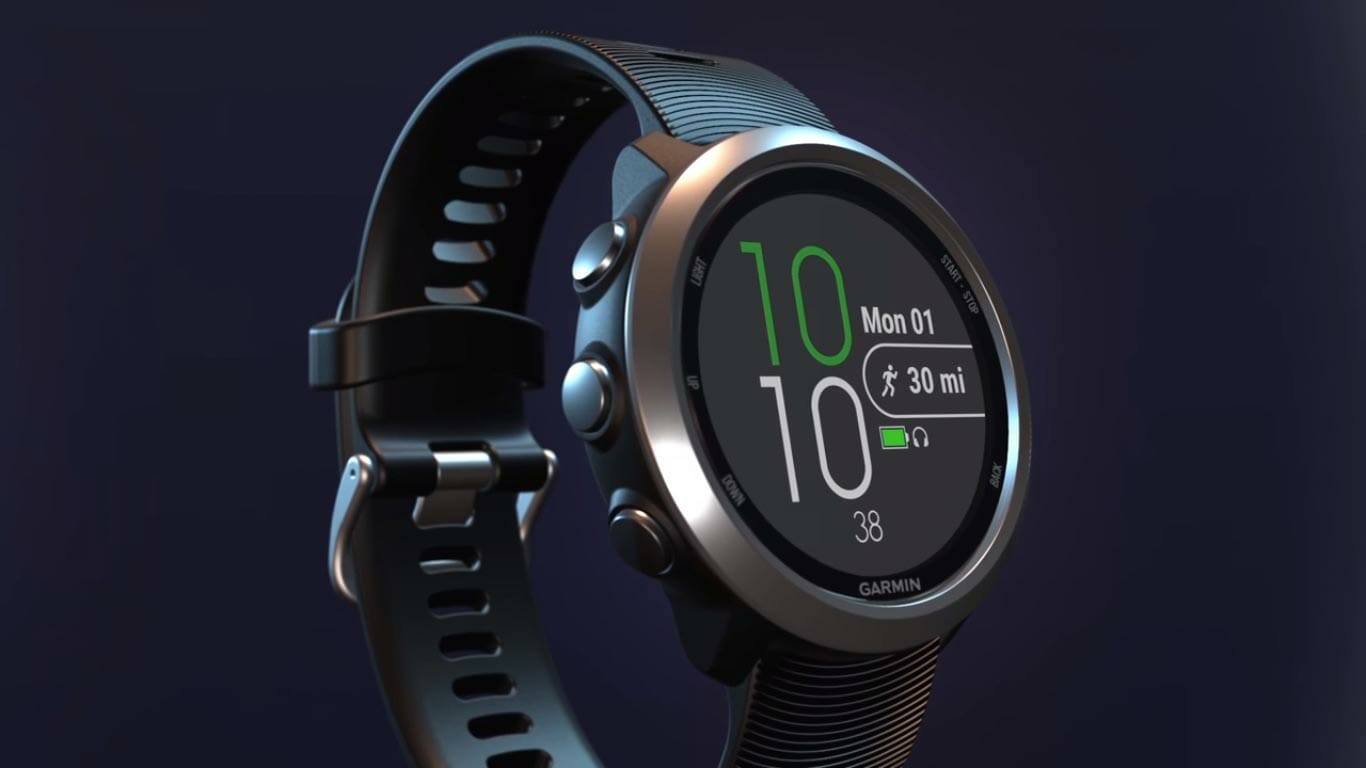 Garmin Forerunner 645 Music
If you want a running smartwatch that doesn't look like a running smartwatch, this is something for you. Most Forerunner models look very sporty, but this one is an exception. Modern and stylish, it provides excellent running stats and fitness tracking options (heart rate, pace, distance etc).
You can choose from bands in different colors, such as pink or orange. You can also purchase additional bands and customize your watch.
Another feature that makes it stand apart is its Chroma Display. It's never been easier to read your details even in direct sunlight. Moreover, the screen is made of chemically strengthened, scratch-resistant glass.
Want to find out more? Check out our full review here.
Garmin Forerunner 235
Who says you can't afford a Forerunner if you're on a budget? This watch costs only half the price of other watches from the Garmin Forerunner series. It tracks distance, pace, time, and heart rate and has everything you need to improve your results. What's more, its screen is 44% larger than other Forerunner watches!
It also has an impressive battery life. While most models last up to seven days in smartwatch mode, this one lasts nine! If you use it in GPS mode, the battery life is up to nine hours, which should suit even the most adventurous athletes.
We go further in depth with the Garmin Forerunner 235 in our full review here.
Final Verdict
As you can see, Garmin has something for everyone. If you're a runner, we'd definitely recommend checking out their models from the Forerunner series.
Alternatively, if you need a multi-purpose model, there's no better option than the Garmin Fenix 5 Plus Australia. It's suitable for all kinds of exercise, and it's highly resistant and durable with excellent battery life.
We hope that this Garmin watch comparison was helpful and that you can find the best Garmin model for your needs.